When listed REITs offer so many benefits, it's hard to go nonlisted, for now.
Commercial real estate can be part of a long-term and diversified investment strategy. Beyond the benefits of lower long-term correlation to other investment classes, such as equities, commercial real estate provides the opportunity for inflation protection, income, attractive growth, competitive returns, and diversification. For many investors, gaining direct exposure to commercial real estate can be difficult because of large capital requirements and limited liquidity.
A more practical way to invest in the asset class is through publicly traded real estate investment trusts. Investors can choose between public, SEC-registered listed REITs or nonlisted REITs. In terms of enterprise value, the public REIT industry currently aggregates $1.2 trillion, consisting of listed equity REITs ($738 billion, or 62% of total), listed mortgage REITs ($291 billion, or 24%), nonlisted equity ($158 billion, or 13%), and nonlisted REITs ($14 billion, or 1%).1, 2
Listed REITs are the largest segment of the REIT industry and have proved to improve the return and risk of a traditional long-term investment strategy. According to the FTSE NAREIT All REIT TR Index, listed REITs would have provided investors with an average annualized total return of 10.2% (and 10.9% for just equity REITs) over the past 20 years (ended Dec. 31, 2011), outpacing the S&P 500's 7.8% increase. The index's dividend growth has also impressed, averaging 5.8% annually since 1991 and exceeding the average annualized inflation of 2.6%.1 Further, listed REITs have generally outperformed other investment classes during slow economic growth and during periods of rising inflation and interest rates.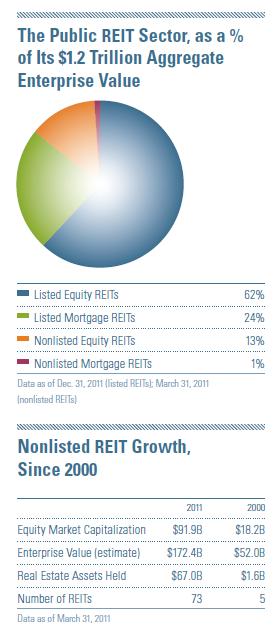 The Basics
Nonlisted REITs differ dramatically from their listed counterparts. Although nonlisted REITs are SEC-registered "public" entities, they do not trade on a major exchange and are therefore illiquid. Nonlisted REITs are also sold as "blind pool" investments, meaning that, unlike most listed REITs, they raise investment capital identifying and buying specific investments. Nonlisted REIT shares, or units, are sold by financial advisors and are typically available for $10 each throughout a "bestefforts" offering period, which often spans several years.
On average, nearly 100% of a nonlisted REIT's shares outstanding are marketed to and owned by individual retail investors, rather than institutions, who stick to listed REITs. Nonlisted REIT securities are typically distributed through a broker/dealer affiliated with the REIT sponsor. The affiliated broker/ dealer receives fees for marketing, distribution, investor relations, and maintaining SEC registration and reporting requirements.
Significant Growth
Despite the long-term attractiveness and accessibility of listed REITs, yield-hungry investors have been clamoring for their less-liquid and less-shareholder-friendly nonlisted cousins in recent years. Although the nonlisted segment of the REIT industry has been around for some 30 years, its most significant growth has occurred over the past 10 years, with the catalysts being broader acceptance of the REIT structure, healthy commercial real estate fundamentals, and a need for greater investor asset-class diversification and yield. Nonlisted REITs, as of the first quarter of 2011, owned or had an investment interest in real estate assets valued at $67 billion, up 419% from $1.6 billion in 2000. Nonlisted REIT sponsors and programs currently number 31 and 73, as compared with four and five in 2000, respectively. Since 2000, nonlisted REITs have raised an aggregate $73.7 billion, representing 80.2% of the current $91.9 billion equity capitalization of the nonlisted REIT segment. (Estimated enterprise value, or total capitalization, is $167 billion, which assumes 45% leverage on programs closed or within offering periods.) Nonlisted REITs were on pace to raise approximately $10 billion in 2011, the highest annual amount since 2007, when $10.9 billion was raised.2
The Drawbacks
Nonlisted REITs present a number of problems for the retail investor, to whom most nonlisted REITs are sold. The financial crisis has drawn even more attention to these issues. Investors feel misled, and regulators have noticed. Efforts are under way to both improve the product and investor suitability and to better align shareholder interest. Before investing in nonlisted REITs, investors should consider these 10 potential areas of concern: